Surfs Up Jet Ski Rental - Hourly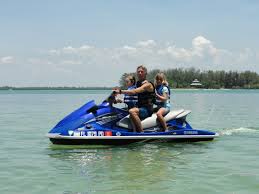 Location: Bradenton Beach, FL
Product code: Jet Ski Rental
Wanting to get out on the water for some high power fun on your own personal watercraft? Surfs Up Jet Skis Rentals is the best way to cool off and explore the crystal blue waterways surrounding Anna Maria Island. With our jet skis rentals, you'll have the time of your life, whether you are looking for an adventure during your vacation or a fun afternoon with friends!
Our powerful, four-stroke Yamaha machines deliver a ton of power to ensure a fun and exciting time for all. Our 3-seater machines are perfect for riding solo or you can bring a friend or a couple of family members along to join in on the fun for just an additional $30.00 per person. (400 lbs. total passenger maximum)
Never driven a jet ski before? Not a problem - all riders will be provided with full instruction on how to have an exhilarating and safe time out on the water. One of our jet ski instructors will escort riders out to the designated riding area where riders will be able to open things up and explore the waters of Palma Sola Bay.
Reserve some fun today!
Full refund if cancelled 48 hours prior to start time.

Important Terms and Conditions:

Requirements to operate a jetski in Florida:

If you are 18 years old to 24 years old:
1. Driver's License or picture ID
2. Proof of completed Boating Safety Course/Boaters license
3. Credit card for security deposit(self, parent's or other renter)
If you are 16 years old to 17 years old:
1. Driver's License or picture ID
2. Proof of a completed Boating Safety course/Boaters license
3. Credit Card for a security deposit(parent's)
**Passengers will only be required to sign a waiver**
We now offer a course on premises for a temporary boating license for those 16-24 years of age.
Anyone born on or after January 1, 1988, who operates a vessel powered by 10 horsepower or more must pass an approved boater safety course and have in his/her possession photographic identification and a boater safety identification card issued by the Florida Fish and Wildlife Conservation Commission. A person is exempt from this requirement if there is a person on board the vessel who is not affected by this law or is at least 18 years of age and holds a boater education I.D. card. This person must be attendant to and take responsibility for the safe operation of the vessel and for any violation that occurs during the operation.
You must be at least 14 years of age to operate a PWC.
Anyone who is convicted of a criminal boating violation, any boating infraction resulting in a reportable boating accident, or two non-criminal boating safety violations within a 12-month period, must attend and successfully complete an approved boating safety course and file proof with the Florida Fish and Wildlife Conservation Commission. The violator's privilege to operate a vessel in the state will be suspended until proof of course completion is filed.

Take the free boater's course online at: http://www.boatus.org/florida/